Introducing the new IoT Proto Shield Plus board

The IoT Proto Shield Plus is designed to let you easily prototype with ESP32, ESP8266 and ARDUINO NANO boards.
Swapping from ESP32 to ESP8266 to NANO, is fast and easy.
On-board rotary encoder, touch sensor, potentiometer, LEDs and a speaker make easy to quickly setup your testing environment.
A wide variety of Plug and Play sockets, for the most common additional modules, lets you expand your projects integrating OLED, LCD or 7segment displays, relay, SD card memory, Real Time Clock, Humidity sensor, LDR (light sensor), PTC or NTC (temperature sensors), microphone, MP3 Player, servo and stepper motor, in just the time to plug the additional modules into the board.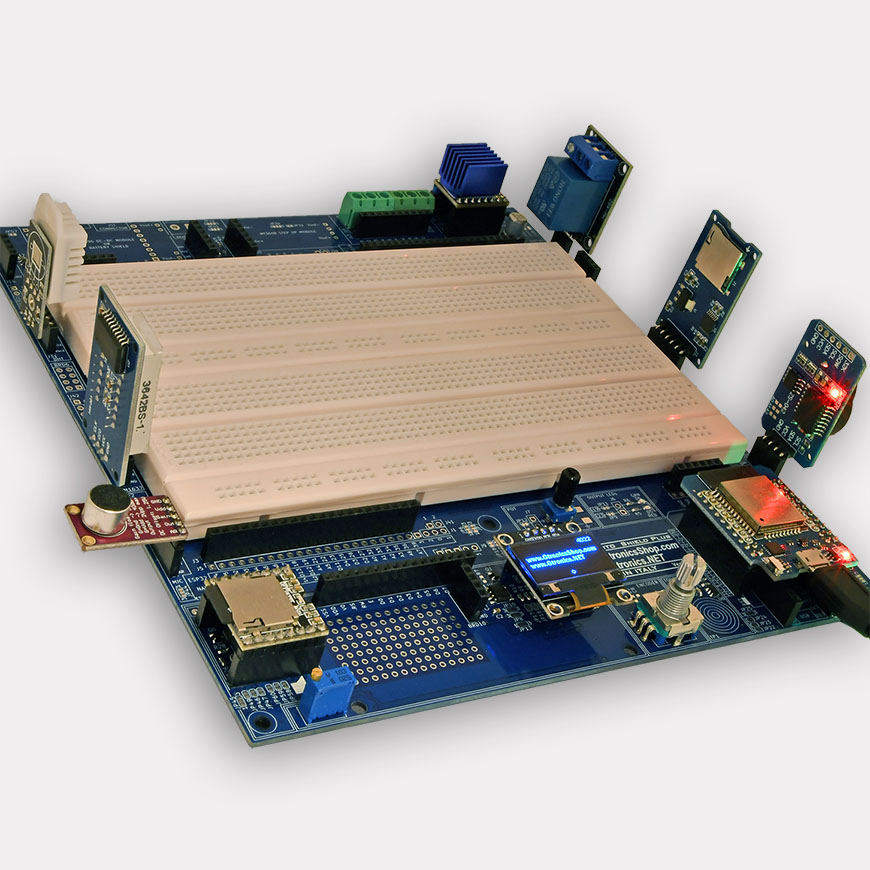 TECHNICAL SPECIFICATION
It works with:
Arduino NANO form factor boards
ESP32 MINI form factor boards
ESP8266 MINI form factor boards
Features:
Wide breadboarding area

2x solderless breadboarding areas 740 contact points each (total 1480 points)

Breakout headers to replicate each I/O pin close to the breadboarding area
Breakout headers to replicate 3V3, 5V and GND close to the breadboarding area
Different working voltages:

3V3
5V
external power supply by means of an additional LM2596 DC-DC module of widespread use
external power supply by means of an additional Battery Shield of widespread use

Onboard, ready to use, rotary encoder with switch
Onboard, ready to use, touch sensor switch
Two onboard, ready to use, OUTPUT LEDs
Onboard, ready to use, potentiometer with knob
Onboard speaker to play MP3 files or tones
Onboard, ready to use, PCF8574 I/O expander to drive 16x2 LCD (I2C communication with LCD with just 2 pins)
Free soldering pads for additional prototyping parts
Four onboard, ready to use, level shifter
RST button, for resetting program
Plug and Play predisposition for the following modules, sensors and actuators of widespread use:

Display LCD 16x2
Display OLED SSD1306 128x64
Display OLED SSD1306 128x32
TM1637 seven-segment display
RTC (Real Time Clock)
SD Card
Servo
LDR (Light Dependant Resistor)
PTC or NTC (Positive or Negative Temperature Coefficient thermistor)
RELAY
HC-SR04 (ultrasonic distance sensor)
DTH11 / DHT22 module or DHT11 / DHT22 bare sensor (humidity sensor)
MAX9814 or MAX4466 module (microphone module)
DFR0299 MP3 Mini Player (MP3 file music player)

Board dimensions in mm: 188x196x30 (HxWxH)
You can choose from different IoT Proto Shield Plus KITs and different add-on components KITs, to create the configuration that will better fit your ideas.